Forgotten Guerrero
This reportage documents the current social and political situation in the Mexican state of Guerrero, a unique player for violence and disorder in the country's drug war.
Guerrero hosts the largest poppy cultivation in the country but unlike any other state under the control of a single organisation, Guerrero is hostage to more non-state armed groups than any other region. Forty cartels and self-proclaimed defence groups (autodefensas) fight each other for control over drug production and trafficking - heroin for the U.S. market above everything else - and other rackets including extortion.
In larger urban centres such as Chilpancingo, Chilapa de Alvarez and the once famous Acapulco, brutal internal fights spread terror among the locals for territorial control. Cartels and other criminal groups adopt the so-called necropolitics: by consolidating fear and assuming the role of death judges for those who live in their territory, they show and gain power. Anyone can become a victim. The violence is terrible.
The chronic lack of basic security often forces inhabitants of smaller towns to abandon their homes in search for safety. A consequence is the increasing number of pueblos fantasma, villages that have been either abandoned in a hurry or whose people seem to have disturbingly vanished in thin air. It's easy to die in Guerrero but even easier to disappear, as the 2014 disappearance of 43 students in Ayotzinapa showed to the international media.
In 2019 President López Obrador founded the National Guard, a security initiative meant to re- duce killings and crime. This operation, having no budget of its own and deriving most of its personnel and hardware from the armed forces, has proved little to date.
To draw a line between some of the autodefensas and purely criminal organisations has become increasingly difficult as the state has shown deep collusion and complicity with both and several autodefensas have gained significant political and social influence. And while in January 2020 Guerrero surfaced in international media for an autodefensa recruiting children, much suggests that several nominal autodefensas have strayed far beyond citizen protection. According to a recent study, the national impunity rate for murder is 89%, while standing at 96% in Guerrero. Police are also poorly trained: 32% of Guerrero's officers in late 2018 had received no training at all. Additionally, the state suffers from a lack of police having 0.9 police officers per 1,000 inhabitants, a ratio half of what Mexico's federal government defines as the "minimum standard" for police presence.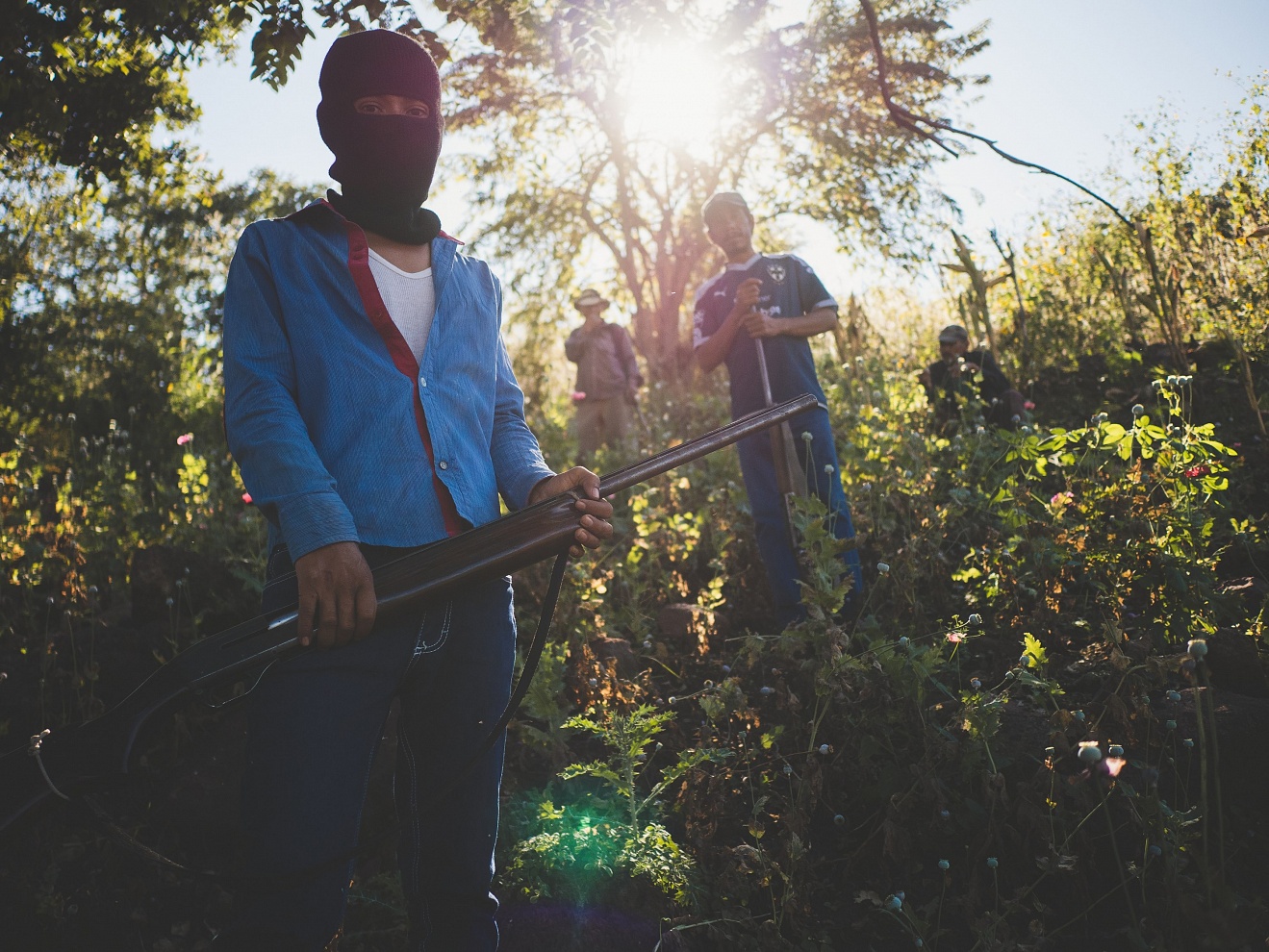 1

/ 40
enlarge
slideshow
001_forgottenguerrero
Mexico; Guerrero; Petlacala; 23/11/18

Members of a self defense group in a poppy field.
The self-defence group of Sierra of San Miguel claim to protect the local population from the criminal group of the Tequileros, which are specialized in kidnapping and extortion, and at the same time take part in the heroin business.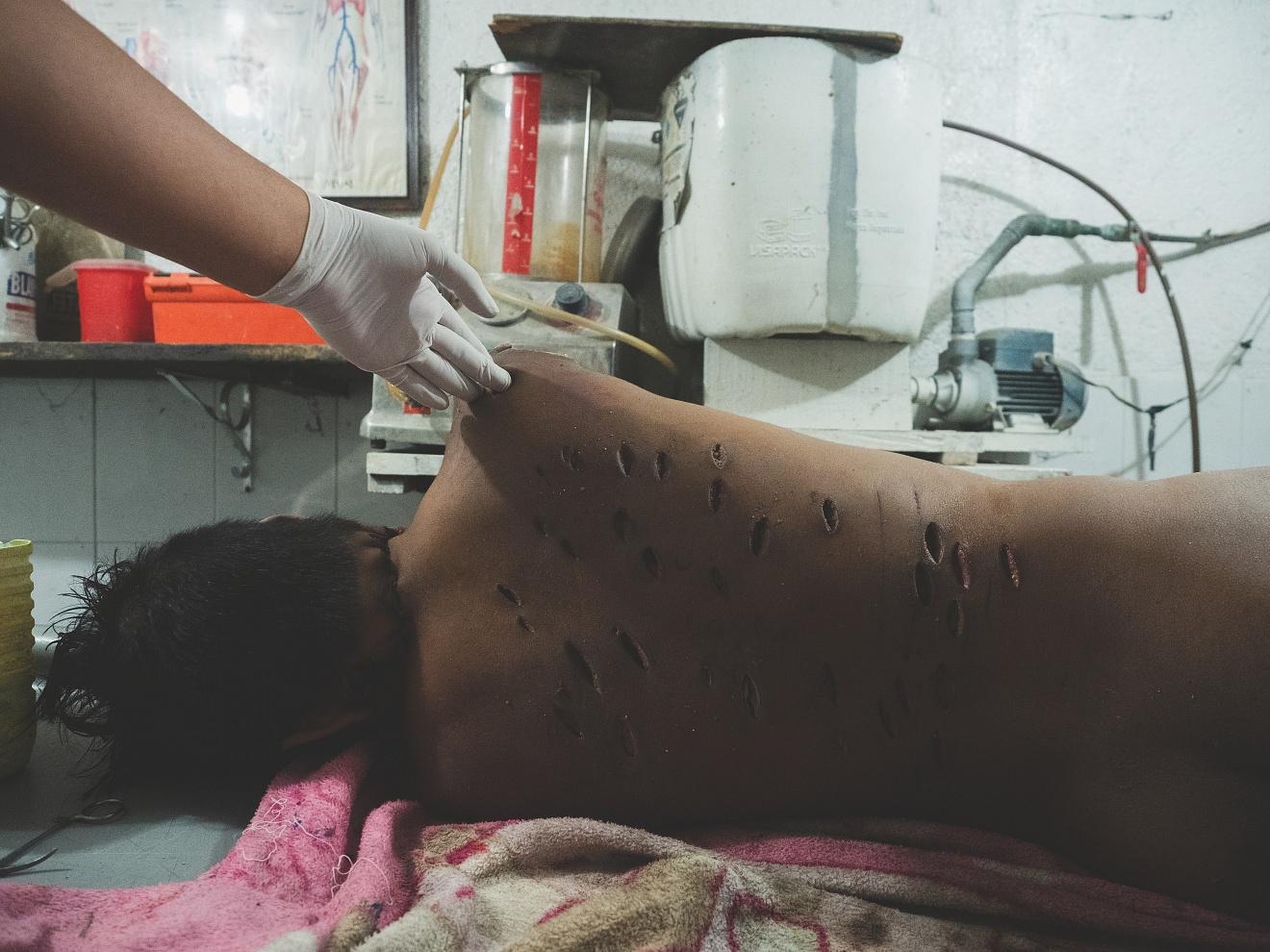 2

/ 40
enlarge
slideshow
002_forgottenguerrero
Mexico; Guerrero; Acapulco; 17/11/18

The stabbed back of a 17-year-old boy found dead with his head and limbs detached.
He is just one of the countless innocent victims found in Acapulco who are violently murdered to spread terror among the local population.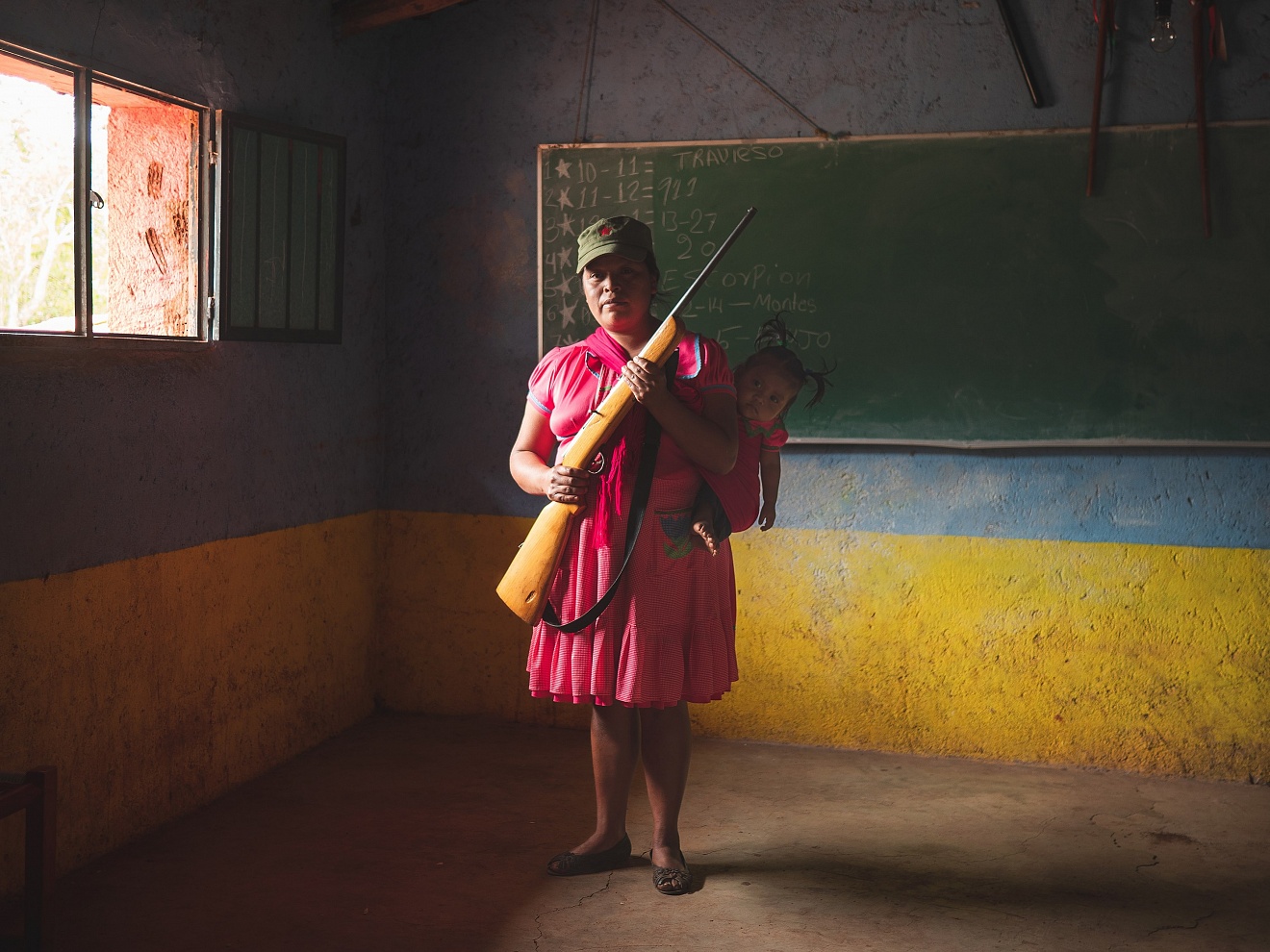 4

/ 40
enlarge
slideshow
004_forgottenguerrero
Mexico; Guerrero; Rincon De Chautla; 10/06/19

Since the beginning of 2019, numerous attacks on part of the cartel of Los Ardillos struck the town of Rincon De Chautla forcing its residents to defend themselves. Portrait of a mother with child who chose to take part in the town's community police.
5

/ 40
enlarge
slideshow
005_forgottenguerrero
Mexico; Guerrero; Acapulco; 18/11/18

Assassinated man in the Acapulco neighbourhood of Zapata.
The sharp rise of violence in the city caused a tourism crisis and forced the Government to intervene with the security operation "Guerrero Seguro". All forces, from the local police to the Marines, are attempting to stop or at least limit the dramatic situation.
6

/ 40
enlarge
slideshow
006_forgottenguerrero
Mexico; Guerrero; Acapulco; 16/11/18

Federal police patrolling the once touristic city of Acapulco.
Governor Flores decided to intervene by implementing "Guerrero Seguro", a massive operation coordinated by all the police and military forces with the goal of ending crime in the city. For the moment results have been very poor as Acapulco remains the most violent city in the state. The only outcome has been the confiscation of a few stolen vehicles and a few arrests.
9

/ 40
enlarge
slideshow
009_forgottenguerrero
Mexico; Guerrero; Los Timontos; 01/12/18

Members of the self-defence group of Policia Ciudadana de Leonardo Bravo holding their positions.
In the municipality of Leonardo Bravo 6 villages out of 18 are under the command of Policia Ciudadana de Leonardo Bravo, which also aims at controlling the route that takes to Chilpancingo as it is a crucial point for the local, illegal, economy.
11

/ 40
enlarge
slideshow
011_forgottenguerrero
Mexico; Guerrero; Area of Chilpancingo; 26/11/18

Soldier eradicating a poppy cultivation.
For years the Mexican army has been committed in fighting against the poppy business. Numbers are impressive as around 84,000 m2 of crop have been eradicated in 2018.

18

/ 40
enlarge
slideshow
018_forgottenguerrero
Mexico; Guerrero; Acapulco; 13/06/19

Crime scene in Acapulco. Acapulco has a rate of 106.63 murders per 100,000 inhabitants.
Mexican President Obrador declared his priority to tackle the dramatically high number of killings. Acapulco continues to be one of the country's most violent cities. The US Government strongly discourages its citizens to go there.
26

/ 40
enlarge
slideshow
026_forgottenguerrero
Mexico; Guerrero; Chilapa De Alvarez; 04/02/18

Portrait of Salvador Rangel Mendoza, bishop in charge of the Diocese of Chilpancingo-Chilapa.
Stories of the bishop's meetings with the organizers of drug trafficking have certainly created controversy. However, he has the support of the Episcopal Conference of Mexico. And, in general, there are many others who approve of his methods.
27

/ 40
enlarge
slideshow
027_forgottenguerrero
Mexico; Guerrero; Petlacala; 24/11/18

Church in Petlacala.
Despite the requests of the locals, the church has never been completed. In fear of the internal feuds between the criminal group of Tequileros and self defense Guerrero Unidos, there are numerous half-finished buildings around the mountainous isolated towns.
30

/ 40
enlarge
slideshow
030_forgottenguerrero
Mexico; Guerrero; Filo de Caballos; 25/11/18

Boys with their faces covered who fight for the Police of Tlatotepec. Since November 2018, they have occupied the village of Filo De Caballos in order to gain control of the route that connects their territory with capital Chilpancingo.
37

/ 40
enlarge
slideshow
037_forgottenguerrero
Mexico; Guerrero; Acapulco; 14/06/19

Cliff divers at the sunset in Acapulco.
Over the last few years the city witnessed a terrible escalation in violence. Victims of Acapulco's violence come in many forms: those caught in feuds between criminal groups, businessmen who don't pay extortion, or those who cross the invisible boundaries of the cartels are a few examples.
39

/ 40
enlarge
slideshow
039_forgottenguerrero
Mexico; Guerrero; Chilapa De Alvarez; 10/06/19

Portrait of Jose Navarro.
He leads a Guerrero-based victims advocacy group called Siempre Vivos.
He has been targeted by Los Ardillos since 2014, when he reported to police that members of the group had kidnapped and killed two of his brothers.